Care that is customized to each patient's needs
At Carter Chiropractic & Laser Pain Solutions we don't take a cookie-cutter, one-size-fits-all approach...our care is customized to the individual needs of each patient. Some of the treatment options might include chiropractic adjustments, MLS Class IV Laser Therapy (or photobiomodulation), electrical muscle stimulation, spinal traction, supplements, exercises, stretches and more.
On a typical first visit to our office, one of our highly skilled doctors will take a thorough history and perform a physical exam along with any needed orthopedic or neurological tests. In many cases , x-rays will be taken of the area of complaint. These x-rays will provide the doctor with valuable information that will enable us to provide the most accurate care for you. In most cases we will provide treatment on that first visit. We ask that you set aside about an hour for your first visit and arrive 30 minutes prior to your appointment time so you can fill out any necessary paperwork.
Chiropractic Care is like Laying the Foundation for Total Health
Chiropractic care is a bit like building a house - certain things have to happen in a particular order in order for everything to stand strong and work together correctly. When building a house, if you tried to build your walls before you had a solid foundation, your walls would be weak and eventually collapse. If you tried to build your roof before the walls were ready, you would run into the same problem. The same is true for your body. Your body has to go through a particular plan of care in order to repair itself correctly and fully.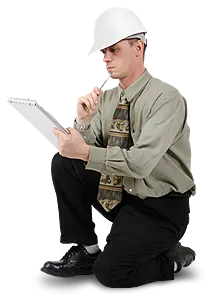 Phase 1: Relief Care
If you are in pain when you come into our office, our first objective is to help you feel better. Depending on the severity of your problem, it is typical for a patient to need chiropractic treatment 2-3 times per week for 2-4 weeks before pain goes away. .
Phase 2: Corrective/Restorative Care
During the corrective phase of chiropractic care, muscles and other tissues are allowed to heal more completely, which helps prevent further injury or pain. It is typical to need chiropractic treatment about 4-8 times per month for 1-2 months, depending on your overall health and the severity of your problem.
Phase 3: Wellness Care
Once your body has fully healed it is important to come in for periodic chiropractic adjustments to avoid problems in the future. Usually, this only requires a quick visit to the chiropractor 1-2 times per month, based on your lifestyle and goals.